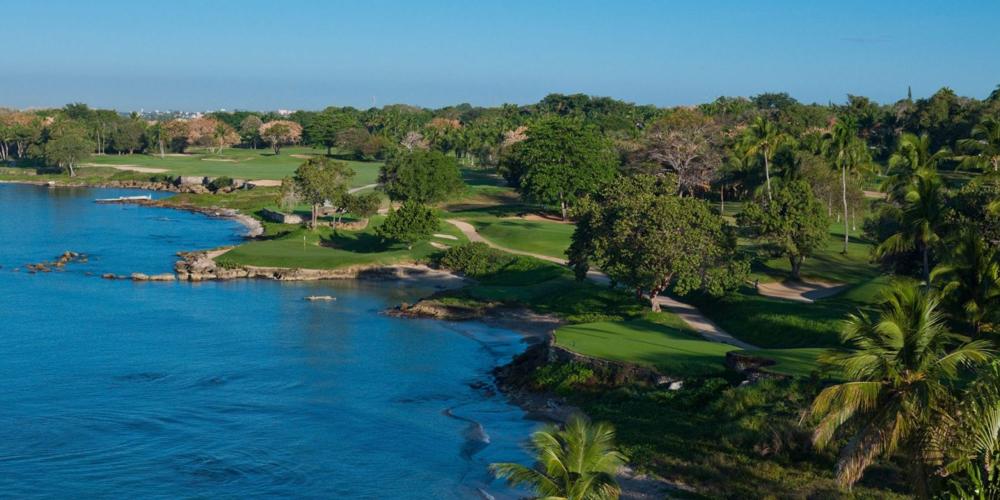 Golfing in the Dominican Republic
By Ed Stone
"The only Caribbean destination with 25 golf courses and 57 oceanfront holes...designed by some of the world's best architects."

Playing golf in the Caribbean has always been a great experience. Playing golf in the Dominican Republic is an awesome experience.

Recently, I was invited to participate in a gathering in the Dominican Republic called DRGolf Travel Exchange. This event included over 45 international tour operators who deliver golf groups to destinations like the Dominican Republic and 26 international media companies focusing on golf and upscale travel. Our itinerary included the fabulous Casa de Campo and Meliá Caribe Tropical Resorts. We played four golf courses we hope you will enjoy hearing about and hopefully play in the near future.

Playing golf in the Caribbean has always been a great experience. Playing golf in the Dominican Republic is an awesome experience. The island offers some 25 courses designed by outstanding architects like Pete Dye, Jack Nicklaus, Tom Fazio, Robert Trent Jones, Sr., Gary Player and Nick Faldo. As we played two of the oceanfront courses, Teeth of the Dog and Punta Espada Golf Club, a comment was made that if we had those locations and settings, any golf course would be beautiful. The masters of golf course design took full advantage of all locations on this enchanted island.

Casa de Campo Resort:

Casa de Campo is a full service luxury resort offering not only golf, but also dining for all tastes, tennis, excursions to other parts of the island, horseback riding, marina, children activities, beach & watersports and real estate for permanent and second homes. When checking into the resort, guests are provided a red gas powered golf cart to maneuver around the resort. Parking spaces are located at the front door of each room for parking the carts...a very nice touch.

The Altos de Chavon artist's village is picturesque, unique and a must see. The village was designed by Dominican architect Jose Antonio Caro and created by Italian master designer and cinematographer Roberto Coppa. The construction began in 1976 and opened with a concert by Frank Sinatra in 1982 in the huge and impressive outdoor amphitheater. This is a 16th century replica of a Mediterranean village with a charming native stone chapel overlooking the Chavon River. Here you'll find local artisans creating and presenting their crafts for purchase in a setting of cobblestone streets and architectural splendor. The quaint shops, boutiques, art galleries and fine restaurants are certainly worth a visit.

But...we must give proper credit to these grand-daddies of golf course architecture. They have created not only some of the most beautiful holes of golf, they have created some of the most challenging holes of golf. Pete Dye created Teeth of the Dog in 1971 as the first of four courses he designed at the popular Casa de Campo Resort. There are "seven holes created by God" said Dye indicating he only created the other eleven. The course plays along the sea's edge and is ranked number one in the Caribbean and 43rd in the top 100 courses worldwide by Golf Magazine...for all the right reasons.

When the golf course was being built, a large crew of Dominican laborers did most of the heavy, back-breaking work. Very little heavy machinery was used during construction, so the workers had to use shovels and pick-axes to break apart the rock to create the routing. Much of the golf course is built on coral rock that is very sharp and caused cuts to the feet, hands, arms and legs of the workers. The workers would comment that the rock was like the "teeth of the dog." When the course opened in 1971, it was officially called "Cajuiles," which is the Spanish word for the cashew trees found around the property. However, it has always been called Teeth of the Dog by the locals. Eventually, since everyone already referred to the course by its nickname, the decision was made to officially change the name to its current, iconic name. The Spanish name for Teeth of the Dog is Diente del Perro...kind of sounds better. Playing the tips of this course offers a slope and rating of 75.9/145 with the forward tees having a 68.7/124.

Pete Dye created and designed the 27-hole Dye Fore golf complex at Casa de Campo. These three 9-hole courses are named Marina, Chavon and Lagos and situated along the Chavon River. Each course has its own personality and from the tips will play 3,910, 3,804 and 3,826, respectively. The open space and deep cavernous areas of landscape gives the feeling of gargantuan proportions. You have incredible views of the Caribbean Sea, the highest mountains (Dominican) in all the Caribbean, the Chavon River and the Altos de Chavon artist village. No matter which tees you choose to play, you will be challenged and probably awe struck...as we were. Slope and rating from the back tees are 77.0/134 with the forward tees being 70.8/115.

Although we did not play the Links at Casa de Campo, we feel the need to provide a short description. Many say it is as challenging as the Teeth of the Dog course. There are similarities to British or Scottish courses. Five holes present water coming into play and several lagoons with wading birds create a beautiful setting for this 18-hole layout with the back tees (gold) offering a 72.6/126 slope/rating and the forward tees offering a 65.7/113. The Links course was renovated in 2012.

Fore caddies are required on all courses at Casa de Campo with rates of $25 per golfer, plus earned tips. The ones we encountered were most helpful and friendly with valuable local course knowledge.

For more information about Casa de Campo and all of its offering visit online at: www.casadecampo.com.do
Meliá offers a wide range of watersports activities and entertainment.

Meliá Caribe Tropical Resort in Punta Cana:
A little more than an hour east, we traveled to the all-inclusive Meliá Caribe Tropical Resort. This property is part of a worldwide group of over 90 hotels located in major cities and tourist destinations. They are located in some 22 countries and offer a very luxurious and upscale all-inclusive brand. As in most destination hotels, they cater not only to golfers, but also to couples, families and groups. There are 1,138 rooms in this location with the majority providing partial views of the sea and hotel gardens. This particular property offers individual upgraded services called the Level with its own private beach, pools, spa and restaurants. Each of the two properties have their own lobby. This was a bit confusing as was the fact that it is very spread out over beautifully landscaped acres of lush gardens and pools. Carts and themed trains transport guest around the property to take you to your designated lobby, spa, pool, beach or dining experiences.

Conveniently located 22.7 km or 14 miles from the Punta Cana airport, the Meliá Caribe Tropical Resort offers an ideal setting on the beachfront of the idyllic Bavaro Beach with extensive and comfortable facilities. UNESCO (United Nations Educational, Scientific, and Cultural Organization) has declared Bavaro Beach as one of the best beaches in the world citing its fine, white sand and crystal-clear waters.

Meliá offers a wide range of water-sports activities and entertainment. As for dining options, your choices are almost unlimited. From fine to casual dining, the choice is yours.

This luxury hotel features 10 pools, a casino, 27 holes of golf, a gym, 13 meeting rooms, fun children's area and other resort services. We also saw, but did not experience an area with zip lines that were not too threatening.

For more information visit the Meliá Caribe Tropical Resort visit them online at: http://www.melia.com/en/hotels/dominican-republic/punta-cana

Cocotal Golf Course as part of Meliá Caribe Tropical Resort:
Hibiscus, Bougainvillea and Benjamina make for a great combination for an 18-hole, par 72 round. They are very nice but not too challenging.

A short ride from the Meliá lobby, is the Cocotal Golf Course that has an arrangement for resort guests to play. Built in 2000, the clubhouse and facilities are very nice and comfortable. Three 9-hole courses, Hibiscus, Bougainvillea and Benjamina make for a great combination for an 18-hole, par 72 round. They are very nice but not too challenging. The fairways are broad, greens are not very difficult and well placed trees and bunkers make for a most enjoyable course. There are four sets of tees with the tips playing any were between 3,203 to 3,905 yards on each of the 9-holes and slope/rating posting 75.3/129 to 71.0/124. A most enjoyable golf course allows you to score well...as long as you keep the ball in the fairway.

The course was designed by the Spanish golf course architect, Jose "Pepe" Gancedo. His credentials include six times winner of the Spanish championship, two International tournaments and the first Championship of Spain in 1966 at Club de Campo de Madrid. In many golf circles, he is considered the "Picasso" of golf designers. He born in Malaga in 1938 and began playing at the age of 12.

For more information about Cocotal Golf Course visit them online at: www.cocotalgolf.com

About an hour's drive from Casa de Campo is the Cap Cana Resort. Another upscale and all-inclusive property.

Here we played one of the most spectacular golf courses you will ever experience. This is where Punta Espada Golf Club is located. Designed by "The Golden Bear" in an incredible setting, even photos can't show or describe this 18-hole, par 72 layout. Some 12 holes play along the edge of the oceanfront or have a view of the Caribbean Sea.

In designing Punta Espada, Nicklaus may have created one of those oceanfront courses that will have you gazing at the scenery and playing golf becomes secondary.

In designing Punta Espada, Nicklaus may have created one of those oceanfront courses that will have you gazing at the scenery and playing golf becomes secondary. This is one beautiful setting and one beautiful golf course. As already stated, there are views of the Caribbean Sea from at least 12 of the 18 holes on this course that plays 7,396 yards from the back tees. You have a choice of five sets of tee boxes with the forward tees playing 5,052 yards. In 2009, 2010 and 2011, Golfweek Magazine gave Punta Espada the ranking of number one in the world. Back in 2007, the Robb Report named it the Best of the Best Golf Courses in the World. We certainly agree with all those accolades and awards.

Fore caddies are required with rates of $25 per golfer, plus earned tips. Our caddie was very helpful and friendly with valuable tips on where to hit the ball and reading the greens.

The enormity of this development is liken to a world of its own. In addition to the Punta Espada Golf Club, the Cap Cana Marina provides over 130 slips that will accommodate up to 150-foot yachts and full services for captains and crew.

Watersports and four different types of beaches are offered to homeowners and overnight guests. There's swimming, diving, sailing, fishing and lots of non-motor water activities. You have access to the trendy and chic Juanillo beach, the glamorous Caletón Beach, exclusive Marina Beach, or the picturesque Fishermen's Beach.
Scape Park was opened in 2009 and covers some 74 acres, allowing visitors to enjoy bird watching, botanical tours and a chance to explore the island's diverse plant and animal life. Learning about the ecology of this area is part of understanding Cap Cana.

From exquisite dining choices to relaxed poolside meals, the restaurant offerings seem unlimited. Cap Cana's menus allow for a world journey of flavors and ingredients. You have choices from Mediterranean dishes to blends of local foods and during certain times there are specialties flown in from European suppliers.

For more information about Cap Cana, visit them online at: http://capcana.com

Golf's Mecca in the Caribbean:
We're sure the other 20 plus courses we did not play are just as enjoyable as the ones we've described in this article. The resorts are very nice and provide everything a visitors could want. The golf courses are spectacular and most challenging...everyone has their own character. However, the most impressive portion of our visit was meeting the people of the Dominican Republic. They are friendly and most hospitable. No matter what level of service you require, the people are alert to all visitor's needs and ready to assist in any way. We'll be back and highly recommend this beautiful and friendly destination in the Caribbean.
Revised: 02/26/2019 - Article Viewed 203,270 Times
About: Ed Stone
---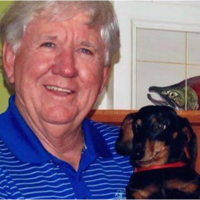 Ed has played golf on more than 350 courses in the United States and foreign countries. He loves the sport and enjoys promoting outstanding locations that helps to preserve the game.

With over 40 years of experience in the travel and hospitality industry, Stone has a wealth of knowledge and experience in tourism and attraction marketing. He has held director and vice president positions with Callaway Gardens in Pine Mountain, Georgia and Opryland USA in Nashville, Tennessee. For thirteen years he owned his own Marketing & Communications Agency, Stone & Associates in Hendersonville, Tennessee with major regional and national accounts.

Ed has major accomplishments in the areas of marketing, research and development planning, advertising, public relations, publicity, sales, television and event production. While vice president of marketing at the Opryland USA complex, he was the executive producer for several major television specials on NBC, ABC, CBS, TNN as well as working on many syndicated television specials.

He is a graduate of the University of Georgia's Henry W. Grady School of Journalism with a B.S. degree. Ed is a member of the Society of American Travel Writers (SATW) where he has been honored with Marco Polo status (the highest honored SATW can bestow upon an Associate member) and a trustee for the SATW Foundation.

He is the recipient of a coveted "SATW Bill Muster Photo Award" and the Central States Chapter of SATW has awarded Ed with over a dozen prize-winning photography awards in the areas of scenic, people and overall.

Ed is an accomplished photographer and an avid golfer. He lives in Tennessee in the summer and Florida in the winter.
---
More Articles by Ed Stone